Summary
McMaster Researchers and Hamilton City Ballet's (HCB) Dance for Parkinson's Program have created technology-based dance activities for people with Parkinson's. Microsoft's Kinect cameras—low-cost motion-sensing devices—input participants' body movements into the system, and calculate users' progress within the activities. Based on appropriate choreography and music from HCB's Dance for Parkinson's program, the activities are designed for students to use in their homes between HCB's regular dance classes. Initially, systems were installed by researchers in people's homes in the first part of an ongoing research collaboration between HCB's Dance for Parkinson's program and McMaster University.
Overseen by Dr Matthew Woolhouse of School of the Arts, a team of student researchers is spearheading much of the collaborative work; past students include Kelsea McCready, Alex Zaranek, Alicia Chhin, Maddie Cox, Chelsea MacKinnon and Jotthi Bansal. Together, this cluster of researchers helped to create the Dance Technology Unit, part of the Digital Music Lab at McMaster. The unit has worked with HCB on research that will hopefully contribute to the greater Parkinson's community in the future.
Science
According to scientific studies, music and dance have positive therapeutic effects for people with Parkinson's. The use of music with a clear rhythm has been shown to improve gait and coordinated action, allowing complex movements to be completed more easily. Furthermore, one study in which people walked for short durations listening only to music demonstrated improvements to both gait speed and stride length. The benefits of music therapy extend beyond just physical activities, as well. Studies have shown that the non-motor symptoms of Parkinson's, such as anxiety, depression, and negative moods, can also be improved. As a therapy, dance incorporates the benefits of music while also introducing specific movement-coordination tasks. Dancing with others fosters enjoyment and a greater sense of community. The Dance for PD® program at the Mark Morris Dance Group in Brooklyn has demonstrated improvements to quality of life and happiness in a setting similar to the Dance for Parkinson's program here in Dundas. It is hoped that the introduction of technology-based activities closely linked to the Dance for Parkinson's program will augment and possibly enhance the benefits seen in similar programs.
Technology
Microsoft's Kinect camera is used as the input device for the activities in this research project. The Kinect is a motion-sensing device that can make applications more interactive (1) by capturing body movements, and (2) using these data to determine a person's progress and achievements within an activity. The device allows users to interact without the need for a game controller or any equipment attached to the user's body—instead the user communicates with gestures and voice alone.
Dance Activities
The dance activities, based on choreography and music from HCB's dance for Parkinson's classes, are designed to complement and reinforce the benefits of the program.  The units—consisting of a computer, monitor and Kinect camera—were installed in participants' homes, which helped to generate feedback for further development of the application. The aim is to make the activities enjoyable and motivational, thereby assisting motor coordination and flexibility between the dance classes. The latest version of the activity system includes on-screen avatars, making the system more interactive than before and able to adapt to users' abilities.  The research team maintains a Facebook page with project updates, research news, and links to HCB's Dance for Parkinson's facebook page, Parkinson Canada, and other relevant websites.  The team has also written two article about the project submitted to an academic journal, and presented posters (e.g. see below) at two conferences.
Funding
Since the research began in May 2014, the Dance Technology Unit has secured over $60,000 in funding. The unit is particularly grateful for the generous support of the Vice-President, Research & International Affairs at McMaster University.
Ethics
All research conducted by McMaster personnel involving people is overseen by Hamilton Integrated Research Ethics Board (HiREB). People involved in the project are asked for their consent in the study.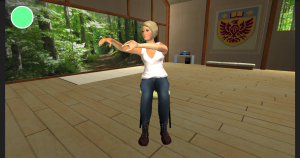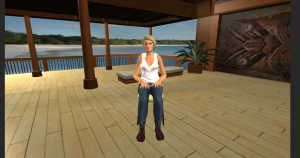 Screenshots of the latest version of the system with avatars that allow the activities to be more interactive.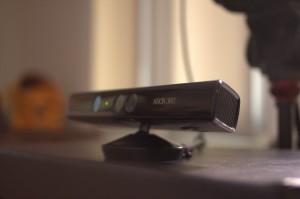 Microsoft Kinect Sensor Camera.  Photo credit: Colin Czerneda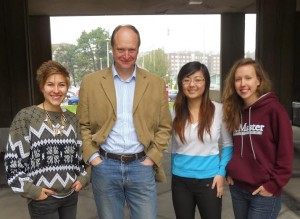 2014 / 2015 Researchers in the Dance Technology Unit: (Left to right): Stephanie Williams, Dr. Matthew Woolhouse, Shuying Zheng, Ashley General.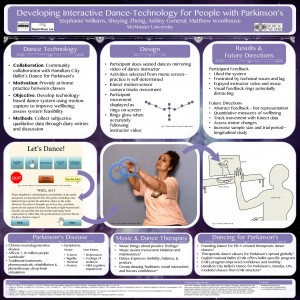 McMaster University Daily News | October 15, 2014
http://dailynews.mcmaster.ca/article/combining-dance-and-technology-for-parkinsons-therapy/
http://dailynews.mcmaster.ca/article/researcher-turning-dance-therapy-into-video-game-for-seniors/